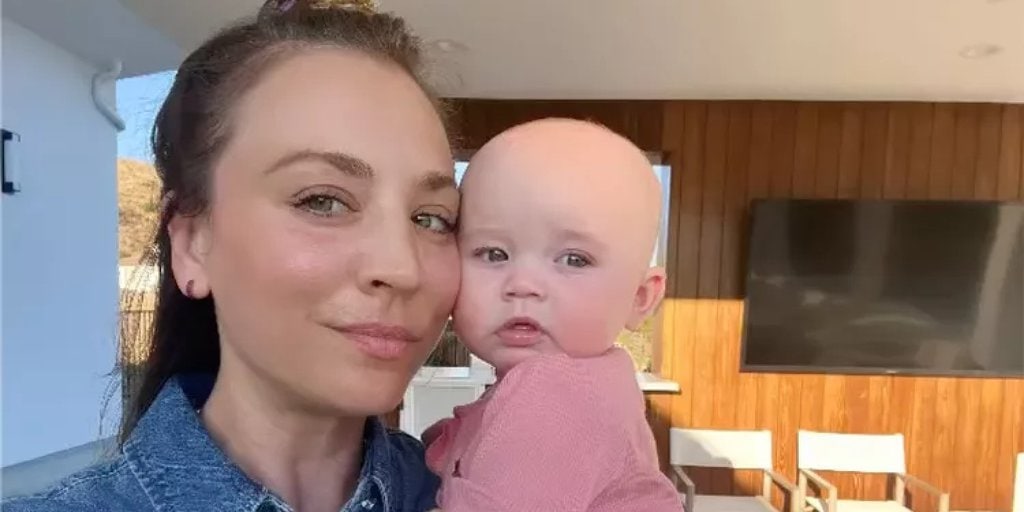 Former The Big Bang Theory star Kaley Cuoco, 37, cherished some quality moments with her boyfriend Tom Pelphrey, their four-month-old daughter Matilda, and Pelphrey's mother, Laurie Pelphrey, during a weekend outing. The actress recently posted a few snaps of this family time on Instagram. As the couple continues to embrace parenthood, they experience moments of joy, captured and shared on social media, highlighting the deep bond within their growing family.
Family Bonding
Sharing the heartwarming day on her Instagram Story, Kaley Cuoco posted a group photo that radiated joy. The picture featured Tom Pelphrey, 41, holding their little one closely, with picturesque mountains in the backdrop. Cuoco playfully captioned the image "Sweet times with grandma," capturing the warmth of the family enjoying poolside moments. Among the heartwarming snapshots that Kaley Cuoco shared, there was one particularly endearing black-and-white photo that stood out. This snapshot captured a poignant moment in which Pelphrey cradled their precious little daughter in his lap and leaned in to plant a gentle kiss on Matilda's tiny head. Cuoco was seen standing beside them, beaming with a radiant smile while witnessing this heartfelt connection between father and daughter.
Mother-Daughter Bond
Concluding her series of heartwarming posts, Kaley Cuoco shared a delightful selfie that encapsulated the essence of maternal bonding. Matilda's tiny cheek pressed affectionately against her mom's, showcasing a tender moment that radiated love and connection. Cuoco's choice to caption the photo with an Instagram sticker reading "Mini Me" perfectly captured the sentiment of the image. Pelphrey also shared his moments of pride as a father on his own Instagram Story. Recently, he posted an adorable snapshot of Kaley Cuoco and daughter Matilda, both sporting infectious smiles. The baby girl was clad in a rainbow-speckled onesie with a strawberry-covered bib, while Cuoco sported a simple white T-shirt and a messy bun.